Logitech G535 vs. G733: How to Choose?
Our Short Conclusions:
The Logitech G535 LIGHTSPEED Wireless are better wireless gaming headphones than the Logitech G733 LIGHTSPEED Wireless. While both headphones are comfortable and decently well-built, the G535 reproduce audio more consistently, have a slightly more neutral sound profile, and their passive soundstage seems more open and natural. Their continuous battery life is much longer, and their non-Bluetooth wireless latency is lower too. However, the G733 leak less audio at high volumes.
In this article, I will share a detailed comparison of the Logitech G535 and G733 Headsets and tell you which one's more comfortable and delivers the best user experience.
The Result:
Best Lightweight headset: Logitech G535
Best value for money: Logitech G535
Best sound quality: Logitech G535
Best microphone: Logitech G733
Best comfort: Logitech G733
Customizable: Logitech G733
No products found.
To save your time, let me start by presenting the conclusions of the comparison between Logitech G535 and G733 Headsets in different aspects, making it easier for you to make a quick decision. After that, I will provide detailed reviews of both products (you can decide whether to continue reading based on your interests).
The Conclusions of the Comparison

Head Adjustability
Both Logitech G733 and G535 don't offer much with their two adjustment notches, and you cannot rotate their cups either.
These headphones, therefore, would be big for people with small heads. They do, however, easily fit most head sizes.
Audio Quality
If you compare Logitech's G535 and the G733, the G535 reproduces audio more consistently and has a more neutral sound profile.
Moreover, the G535's passive soundstage is much more open and natural as compared to Logitech's G733.
No products found.
Battery Life
The G535 gives more battery time than the Logitech G733 on a single charge.
Software Functionality

In terms of customizability, the Logitech G733 takes the lead.
Even though both these Logitech headsets are integrated with the Logitech G Hub software, which allows for customization, the Logitech G535 fails to deliver the optimum results.
Whereas, the G733 offers great options for customization through its integrated software which makes it ideal for gamers who love personalized gear on their hands. 
No products found.
Audio Leakage
If you look at the audio leakage performance of these two Logitech headsets, then G733 wins the game here.
The Logitech G733 has a decent audio leakage performance. Nobody can hear your audio in a busy environment, even at high volume.
Whereas the Logitech G535 audio leakage is sup-par, people can easily hear your audio even in busy and noisy environments like office or subway stops.
Verdict: Logitech G535 vs. G733
After comparing these two, you must have guessed what my final thoughts would be since they are pretty obvious.
To break it down for you in simpler terms, if you are looking for:
Lightweight headset: The Logitech G535
Best value for money: The Logitech G733
Best sound quality: The Logitech G3535
Best microphone: The Logitech G733
Best comfort: The Logitech G733
Both these Logitech Headsets offer their fair share of benefits, and their downsides are masked by their amazing user experience. 
No products found.
In-depth review of the two headsets
I have used both of these, so here's an in-depth review of the two headsets.
Logitech G535 Headset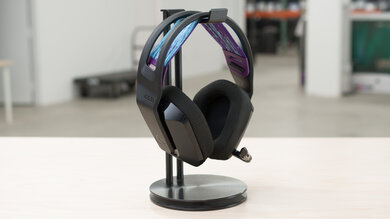 The Logitech G535 is a great quality wireless gaming headset that is also super lightweight. It has a decent built quality which can easily survive an accidental fall or two.
It is one of the most comfortable headsets out there that you can wear for even the longest gaming sessions, along with its long battery life that lasts about 35 hours in max usage.
The audio is also nicely balanced with a passive noise-canceling feature. Overall, the Logitech G535 seems to be a superb and great-sounding headset that is worth buying. 
No products found.
Logitech G733 Headset
The Logitech G733 is a decent and well-built wireless gaming headphone. They have a lightweight design which is mostly made of plastic, but it also features a cloth headband.
This makes it a comfortable headset to wear for long hours of gameplay.
Along with that, the Logitech G733 has a well-balanced sound profile which makes them a perfect headset for listening to several types of audio content.
Overall, these are one of the four customizable headsets for gamers, so you should consider investing in the Logitech G733 if your budget allows you to.
No products found.
Logitech G535 vs. G733 Specifications Comparison
Attributes
Logitech G535
Logitech G733
Driver type
40mm
40mm Logitech pro-G
Frequency response
20-20,000 Hz
20 Hz-20,000 Hz
Weight
236 g
278g
Connections
2.4GHz using a USB dongle
Bluetooth
2.4GHz using a USB dongle
Battery Life
33-Hour Battery Life
20 hours with the default setting and 29 hours without lighting
SNR
87.5 dB
N/A
Impedance
36 Ohms
39 Ohms
Microphone frequency
100 Hz to 10 kHz
20 Hz-20,000 Hz
Check Price
Visit Amazon
Visit Amazon
Logitech G535 vs. G733: Audio Quality
The audio quality of the Logitech G535 is well-balanced. These headsets lack that thump and rumble low bass.
However, that's canceled out by their overly emphasized mid and high bass. You can enjoy that extra boom and groove through these headsets.
These headsets provide satisfying levels of volume and bass on everything from your intensive gameplay sessions to your daily jamming to songs on Spotify.
The vocals and lead instruments are slightly nudged at the back of the whole sound, but they are still clear and detailed.
Apart from volume, the Logitech G535 lacks noise isolation.
Even though G535 headsets have a closed-back design, they fail to block out the low rumble of the bus or plane engines or other environmental noises. It does cancel out the hum of the air conditioner, though.
No products found.
Logitech G733 Headset
The Logitech G733 has a well-balanced sound profile. Therefore, it is well suited for listening to a wide variety of audio content, from your playlists to all of your thrilling games.
However, people who prefer a little more rumble and thump in their audio might face a little disappointment with the slightly underemphasized bass.
But on the brighter side, users can easily modify the Logitech G733's out-of-the-box sound profile via audio presets or a graphic EQ in the Logitech G HUB companion software.
Lastly, they have sub-par noise isolation and fail to filter out many noises. Therefore, you can easily hear the ambient sound of your housemates or a car engine outside.
Overall these headphones deliver good audio, and you can hear the vocals, lead instruments, and dialogue clearly.
No products found.
Logitech G535 vs. G733: Design
Logitech G535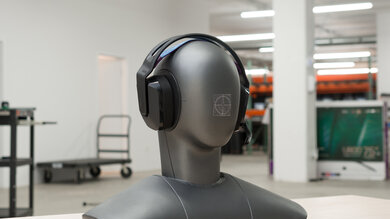 Look-wise, the Logitech G535 headsets appear quite similar to other headphones in the LIGHTSPEED lineup because of their rectangular-shaped ear cups and black plastic frame.
The Logitech G535 has a ski-band headband design along with a reversible fabric strap. One side of the strap is purple, while the other side is blue.
This gives off a stylish look because these colors complement the black frame of these headsets.
Looking at the controls, the Logitech G535 headset has sub-par controls. The controls are disappointingly simple in design. Plus, they lack the call and other music-related controls like pause or play.
Besides the one or two downsides, these controls are easy to use. There are some basic on and off buttons, a mic mute button when you flip the mic upwards as well as an infinite volume wheel control that beeps when you have reached maximum volume.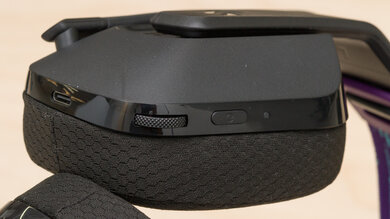 A little heads up — The infinite volume wheel control is sensitive, so you can accidentally change the volume if you brush your hand against it.
Lastly, the G535 headsets aren't portable, which is usually normal for gaming headsets. Therefore they can't fold or swivel to reduce their footprint.
Although G535 look and feel bulky in design, they are surprisingly light in weight.
No products found.
Logitech G733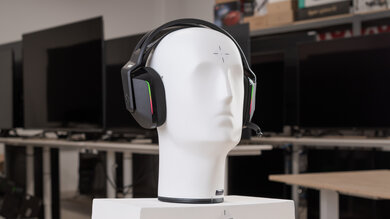 The Logitech G733 may look similar to the Logitech G535 with its reversible inner headband and textured ear cup lining.
However, the Logitech G733 stands out because it has an RGB lighting strip on its ear cups that can even be customized in its companion software. The G733 model also comes in different colors, such as shite, black, and even lilac or bright blue.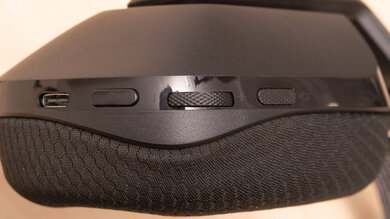 The Logitech G733 fails to impress with its limited controls. There's a usual on and off button, an infinite scroll wheel for volume adjustments, and a mic muting button.
The infinite wheel control beeps when you have reached the max volume, and the headset provides audio clues for when you have muted and unmuted the pretty advanced mic.
Lastly, these headsets are not portable because their bulky body does not allow room for folding.
No products found.
Logitech G535 vs. G733: Comfort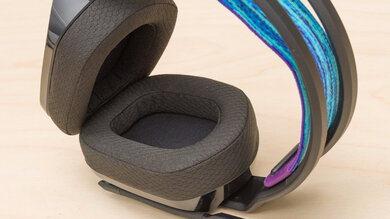 The Logitech G353 is comfortable to wear. They are designed to be a comfortable fit for players who want to enjoy long sessions on their PS5 or Xbox games.
The Logitech G535 is light in weight because its ski band headband design distributes the weight evenly and doesn't cause the headsets to clamp onto the ears too tightly.
Apart from the decent and comfortable fit, each cup of this headset is well padded with memory foam and also features a hard-fabric cover. These covers lend breathability over long gaming sessions.
Along with that, these headsets are stable on the head and don't move around even while you're lying on a couch.
When it comes to giving a comfortable experience, the ease of adjustability and the padding make the Logitech G535 a winner.
No products found.
Logitech G733 Headset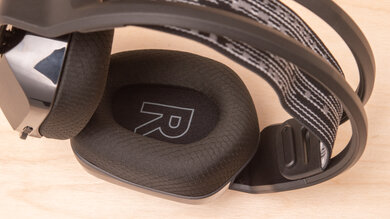 The Logitech G733 Headphones are comfortable to wear. Users can enjoy it for long hours without getting a headache.
These headsets are relatively lightweight and have a good supportive headband that doesn't clamp your head too tightly.
Additionally, the Logitech G733's straps are also quite comfortable as they do a good job of delivering the weight evenly across the head, making the handset feel lightweight.
Speaking of which, the reason why it is so comfortable on the head is its weight which is only 9.8 ounces.
Moreover, the Logitech G733 is quite stable on the head, so you do not need to worry about them slipping off.
They can, however, move around with intense head movements and are likely to fall off during intense exercises.
No products found.
Logitech G535 vs. G733: Pros and Cons
Pros of the Logitech G535
Extremely comfortable to wear
Lightweight
Great out-of-the-box sound quality
Long-lasting battery life
Cons of the Logitech G535
No Bluetooth
Limited size adjustability
Pros of the Logitech G733
Great Microphone quality
Comfortable to wear
Lightweight
Attractive color options
Cons of the Logitech G733
Sub-par noise isolation
Limited adjustability